SUSILA DHARMA INDONESIA ACTIVITIES

CONTRIBUTIONS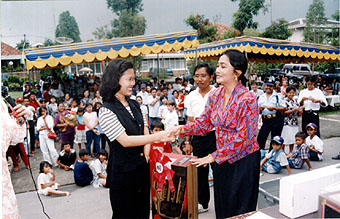 Each year, SD Indonesia gives free circumcisions to boys of the Islamic faith, and also organises a yearly bazaar. Every year we celebrate Bapak Mohammad Subuh's birthday as a National Subud Day. On this day,many regions of Indonesia, Subud members take part in social activities.
At the end of Ramadhan, we receive alms from Subud members and distribute these funds to the mosques around Wisma Subud, the staff of Yayasan Subud (guards, gardeners, repairmen), and to the various projects which are designed to help Subud members.

NEWS LETTER
SD Indonesia publishes a monthly newsletter in cooperation with Warta Pemuda Subud, organised by Subud Youth Indonesia, which highlights project activities and development. The newsletters are distributed throughout Indonesia by SD Representatives.

SPECIAL HELP
SD Indonesia will support and donate to Subud members who have commendable or meritorious service in Subud organization or YM. Bapak for helping their routines of daily living and need to return to the hospital for treatment, if needed.

COOPERATION/LINKS WITH OTHER NGO's
Cooperation with the Japanese National Council of Social Welfare

The Japanese National Council of Social Welfare has sponsored of our project managers from Children Village at Cipanas and from Community Development at Grinting, Brebes to attend an 18-month of social work in Japan.
Cooperation with Institute Banker Indonesia

The Grameen Bank programs in cooperation with the Bankers Association is providing to help people to obtain loans to start their own small-scale businesses. The action research done in Cipanas and Ciwidey, West Java and in Brebes, Central Java. Now, we are seeking for a manager to manage the pilot project.
OTHER'S S D-INDONESIA ACTIVITIES
International Conference and National Workshop for Helping Street Children:
SD Indonesia attended this conference and workshop, in Yogyakarta, organised by BKKKS (National Body of Social Welfare Coordination). Attended by 225 persons from Government Institutions and Non Government Organisations, both nationally and internationally. The discussion meetings are: development and street children; social & anthropological perspective and street children lifestyles; problems, programs and strategies; interaction between street children, the State and society; early psycho social intervention technique; and legal protection towards the basic rights of street children. SD Indonesia recommended and active presented some idea for helping street children basic on its experiences.
Giving seed money to the "Mangun Jaya" group at Purwodadi, Central Java for duck breeding who organized by Subud Youth